Schaumburg High School junior Samantha Freehling has a lot on her plate. She serves as editor-in-chief of the Saxon Scribe, the high school's newspaper and news site, and when she's not writing or editing, Samantha plays viola in the school's orchestra.
Suffice it to say, a stage 3 cancer diagnosis didn't fit into her plans.
Nonetheless, Samantha battled her way through chemotherapy treatments and now is in remission, according to her doctors. In reflecting on her journey, she points to her bedroom reveal — carried out by students from Schaumburg and Fremd high schools — as helping to get her through it.
Samantha was nominated by Stacey Wahlberg, president of the St. Charles-based Cal's Angels, for the bedroom makeover, with Special Spaces. The foundation and its 12 chapters, including the Chicagoland chapter, work to create dream bedrooms for children with cancer, literally changing children's lives, one bedroom at a time. Samantha is one of them.
"I was in the middle of my chemotherapy treatment at that time and this was a wonderful distraction," Samantha says. "This experience and opportunity gave me so much to look forward to and plan. I greatly appreciated that, especially during that difficult time."
The volunteers who came together to complete the renovation, well, they are a big part of this story. They included more than 20 students from Schaumburg and Fremd, who are traditionally big rivals. Enter Hamid Mehreioskouei, Athletic Director at Fremd, who has worked with Special Spaces for eight years, but last year he started involving students.
"I was looking to bring Special Spaces into the school setting," Mehreioskouei said. "This project is doubly special for me because I'm a Schaumburg kid myself."
After Samantha was nominated, and Mehreioskouei learned that she attended Schaumburg High School, he reached out to his counterparts there, Athletic Director Marty Manning, and Student Services Director Yassi Delgado, to enlist students.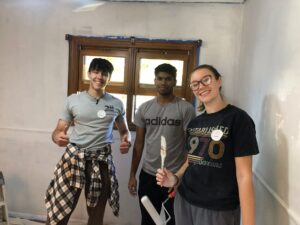 "They didn't need much convincing," Manning says. "They were all on board when they learned it was one of their own kids."
Students at both schools set out to fundraise. They needed to raise $5,000 to purchase components, including a bed frame, book shelves, cabinetry, desk and table. Note that 20% of the funds are always set aside for the makeover of a sibling's bedroom, since the organization believes a cancer diagnosis affects the whole family. Consequently, Samantha's younger sister, Sophia, also was treated to a new bedroom.
From there, Schaumburg and Fremd students set out to make their own contributions to the rooms. Students in Applied Tech created bookends and wooden trays, while those in Food and Consumer Science made decorative pillows and drapes.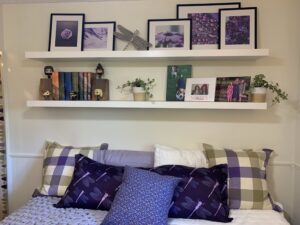 On makeover day, students turned out in shifts to work, starting early in the morning. They rolled up their sleeves and painted both bedrooms, before working to assemble the larger furniture pieces for the rooms.
"I was shocked that they showed up before I did," Mehreioskouei said. "They were done early and most did not want to leave."
The big reveal took place at 4 p.m. and both Samantha and Sophia were thrilled, calling it a "huge surprise and a once in a lifetime experience."
"We have small bedrooms, so we especially love all of the new space, storage, custom made beds, book cases, and closet organizers," Samantha said. "The designer also did an amazing job incorporating our likes and interests to personalize our bedrooms."
Mehreioskouei described the project as pure joy, and one that reflects the culture in Palatine Township High School District 211.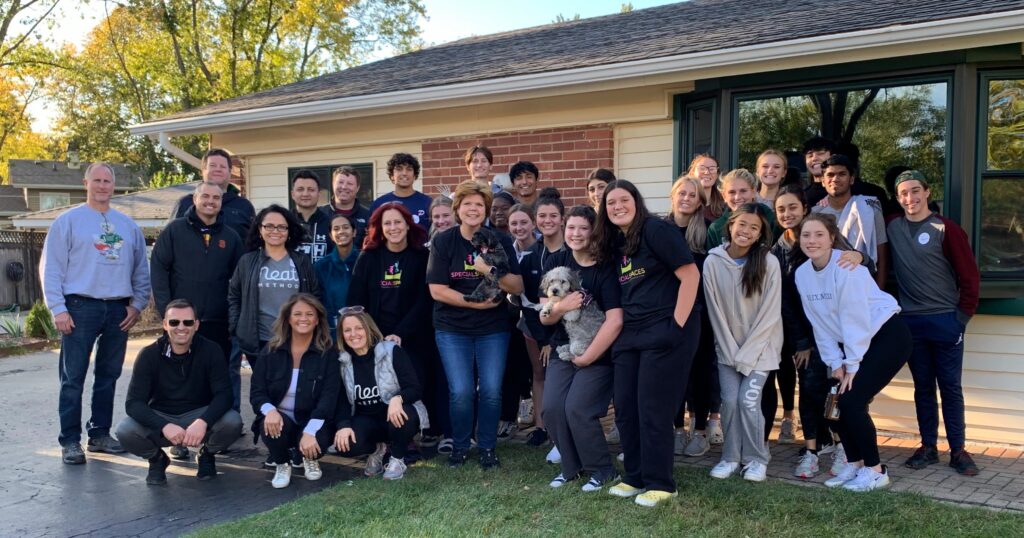 "Seeing students work together toward something bigger than themselves — and collaborate to help another student," Mehreioskouei said, "well that's the greatest takeaway."
Samantha, too, wants to thank these students for all their support and kind words during her cancer journey: "This opportunity has truly proven what a kind and selfless community that I am so grateful to be a part of."
Please follow and like us: