Senior Christina Tsvetkova watched with pride as little trick or treaters deliberated at the last table at Milo's Book Bash. After making their way through all the games and activities, they thought long and hard at the end: looking for just the right book.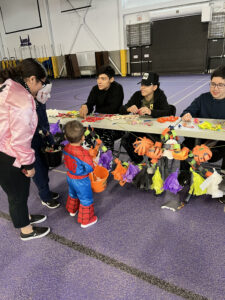 "They practically run up to get one," Christina said.
This was the third year for Milo's Book Bash, held Saturday at Rolling Meadows High School. Member's of the school's AVID program hosted the bash, as a way to give back, they said.
"AVID is all about college readiness," Christina said. "I've been in it all four years and I love it. We do a lot of service activities and this one represents our program. We're very fond of promoting reading."
Teacher Michelle Marconi has been a coordinator of the AVID program, or Advancement via Individual Determination, nearly since she started at Rolling Meadows, 11 years ago. She finds the program so rewarding, it has confirmed why she became a teacher.
"The elective class specifically helps first generation students prepare for college, career and life," Marconi says. "Ultimately, we help our AVID students apply for college and scholarships, and support their launch into post-secondary life."
Take Christina. She is busy applying to colleges now, with the hopes of majoring in psychology and minoring in art.
"I want to help people," she says.
The AVID program is at Rolling Meadows and Wheeling high schools, and its academic strategies help nearly every student succeed. Many teachers in the buildings use AVID instructional methodologies that center around writing, inquiry, collaboration, organization and reading.
One of those teachers was social studies teacher Patrick Thorburn. He passed away two years ago, but his legacy of lifelong learning continues. A foundation named in his memory, the Patrick Thorburn Memorial Scholarship Foundation, stepped up as the event's major sponsor, and purchased all the books.
Please follow and like us: