A world premiere opening takes place tonight at the Skokie Theatre for the Performing Arts with a script straight out of Hollywood. Picture actors arriving in limos, stepping onto a red carpet, meeting fans at a champagne reception and doing a talk-back after the screening. For real!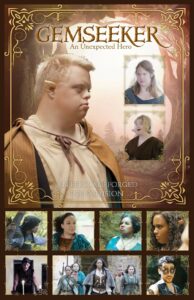 The film is called "The Gem Seeker: An Unexpected Hero," and it stars Lake Zurich native Nicholas Pesce in the title role, with supporting actors Ashley McLeod of Naperville, Valerie Pajerski of Arlington Heights and Allie Reninger of Schaumburg. All four are veteran stage performers, having appeared in musicals in Hanover Park and Schaumburg. This is their second film appearance.
The premiere takes place at 7 p.m. tonight, with screenings of the film at 7:30 and 8 p.m.
The production is the second in a fantasy film trilogy produced and directed by Orion Couling. His first fan film, "No Easy Target," premiered in 2019. The short drew international acclaim and won multiple awards in film festivals, for featuring actors with Down syndrome in principal roles.
"Too many times in the world of fantasy, film actors with disabilities are featured as marginalized characters," Couling says. "My goal is to put them at the forefront of the story."
Couling describes Gem Seeker as a prequel to J.R.R. Tolkien's "Lord of the Rings." Nicholas plays the role of Nim, a young man with Down syndrome, who has a unique understanding of magical gems. He is sent on a quest to find these precious stones so elves can counter the magic of the person who will become Sauron, the lead antagonist in Lord of the Rings.
Nim is ably joined by a team of warriors, who happen to be women as they go on this quest, and as Couling says, adventure ensues.
For the role of Nim, Nicholas had to be transformed into an elf, which meant putting on prosthetic ears with the help of a professional make up artist. And while he is not a warrior character, there is constant action around him. Couling first met Nicholas while directing him in the role of Burt, in "Mary Poppins."
"The part was handwritten for him," Couling says, "and like our previous films, the script was created by a panel who gave direct feedback on the language that was being used, regarding both the beloved world of J.R.R. Tolkien and the disability community."
Couling made the short with the Naperville-based film company, Hidden Catalyst, and its devoted filmmaker Scott Potter, who passed away last year. However his wife, Sarah Potter, worked to see the film completed.
"She worked with our company and me to help make sure the film was finished," Couling says, "and that everyone could see the incredible work he helped create."
After tonight's premiere, Couling plans to enter the movie in film festivals, where he hopes to draw a similar response to his mission to feature differently abled actors in featured roles.
Please follow and like us: