The stars aligned last week for students in the symphonic band at Schaumburg High School. That's because an SHS alumna — the daughter of longtime Schaumburg Mayor Al Larson, who played clarinet in the band — paid them a visit to describe her role working in the space program for NASA.
Catherine Koerner is the deputy assistant administrator of NASA's Explorations Systems Development. Simply put, she is working to send a manned space flight back to the moon — 50 years after the last of the Apollo missions landed a lunar mission.
Koerner is involved with the NASA's Artemis missions, named for the goddess of the moon, which intends to return astronauts — including the first woman and person of color — to the moon by 2024. She served as the program manager for the Orion mission, which in December sent an unmanned spacecraft to the moon, paving the way for flights with astronauts, beginning with Artemis II.
That's where the plot thickens. About that same time, in December, another Schaumburg High School alumnus was thinking about space. Tim Corpus is a composer, arts administrator and performer, who was so inspired by the Orion flight, that he composed a new work for band and orchestra, called "Moonshot."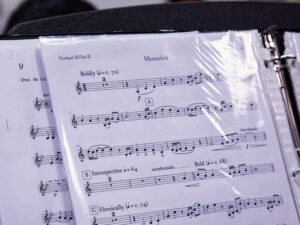 He shared the work with his former Schaumburg band director, Gregory Tipps, who now conducts the Wind Symphony at Harper College. Tipps connected the dots and told another of his former band students about the new composition, Catherine Koerner.
That love of space exploration, between two former band members, drew both to return to the school last week, to describe their career paths after graduating from Schaumburg, and ultimately to hear Schaumburg's Wind Symphony play "Moonshot."
"Did you notice what happened when you watched the videos about space," Corpus asked the student musicians.
"The music is what brings the emotional pull. You're playing the score."
With that, the ensemble played "Moonshot" for the first time for its composer — and for Koerner and Tipps, whose Harper Wind Symphony will perform the work in May.
Senior Heather Bugay plays French horn. She described playing the piece as "hard in some parts, but I like the ending. Each instrument section gets to play a different scene and create the noises from space."
Overall, students were enthralled with meeting Koerner and Corpus, and learning about their passion for space. One student asked why space exploration still matters. Koerner didn't miss a beat: "Expanding boundaries is part of human nature. We all want to learn, explore and expand our knowledge. Space is that next frontier."
Please follow and like us: