Nicole Hsu loves to draw, especially figures and more recently portraits. But over the last few months, this sixth grader at Our Lady of the Wayside School has been brushing up on her public speaking, and for good reason.
Nicole was chosen as one of five students to address Gov. J.B. Pritzker and the General Assembly Tuesday in the capital rotunda. She will speak about the impact of the arts on learning, and more specifically about her award-winning art work.
"I'm basically going to say that a world without art would be mundane and boring," Nicole says, "and that art allows us to express our feelings."
Nicole's self-portrait was chosen by a panel of art educators to be part of the statewide travelling exhibit, sponsored by the Illinois Arts Education Association. In all, the work of 44 students is featured — from kindergarten through high school — and in a wide range of media. The show arrives Tuesday in Springfield, just in time for Arts Advocacy Day in Illinois.
That's when lawmakers, as well as educators and arts advocates will convene at the capital to raise awareness about the power of the arts, and not just visual arts. Members of the Illinois Music Education Association will have featured ensembles, as well as members representing dance and theater.
It was last year that Nicole's art teacher, Ms. Laura Frazier, assigned students to create a Picasso-inspired self-portrait, using oil pastels, but they also were free to draw from other inspiration. Students had already studied the split pane technique that Picasso often used, but Nicole chose to weave in an image from another famous artist, Leonardo Da Vinci and his portrait of Mona Lisa.
"I love the Mona Lisa," Nicole says. "It's so realistic and mysterious."
Consequently, her portrait is presented in the split pane technique, but she positions her hands much like the famous painting and turns her veil into a waterfall, subtly infusing an art and nature theme. Nicole's piece was one of three chosen from fifth graders as award-winners in the statewide contest.
Her teacher, Frazier, is a graduate of the School of the Art Institute and she takes an art studio approach to teaching. Consequently, her classroom is a dedicated space for students to create and refine their art. Their assignments are often a work in progress and they line the hallway leading up to the classroom, and the walls of their studio.
"I encourage them to be inventive," Frazier says. "They work on the same piece, adding their own creativity in applying the lesson and materials."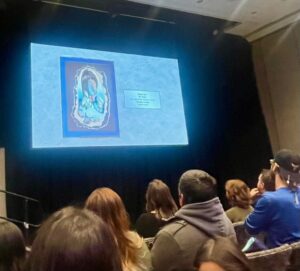 Currently, Nicole and her classmates are working on another self-portrait project, this time in chalk, with the assignment to add an "around the world" theme. For Nicole's part, she added a pair of Chinese lanterns in the background to reflect her heritage. She has been shading and layering the portrait before Thursday's Fine Arts Night at Our Lady of the Wayside.
In thinking about how she would encourage other young artists, Nicole keeps it simple: "Don't be afraid. Take inspiration from anything around you and just go with whatever comes to your mind."
Please follow and like us: