The Arlington Heights Memorial Library is reinventing itself. Officials always thought of the iconic library as a major hub in the community, with its array of books, publications and services. But increasingly, its programs are moving outside the confines of the library walls.
Just last year, the library opened its Makerplace, with its laser cutters, 3D printers, embroidery, sewing machines, and computers for coding and programming small robots. This year, library staff members added an outdoor learning space to their offerings: a vegetable garden.
In the spring, they took over one of the garden plots at the Viatorian Giving Garden, located on the grounds of the Viatorian Province Center in Arlington Heights. The library is one of 25 teams of gardeners involved, including one from the Arlington Heights Garden Club, the Children of Abraham Coalition and First United Methodist Church, to name a few. Library patrons are invited to join with staff at the garden regularly.
"As we saw nationally during the pandemic, communities everywhere turned their attention to the outdoors in ways we hadn't in our busy lives for years," says Jennifer Czajka, programs and exhibits manager for the library.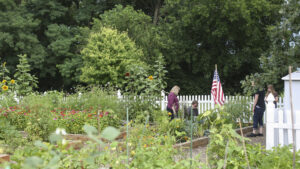 "People saw the health benefits of more time unplugged, firsthand, and the planet saw some brief environmental benefits when activity slowed down," she adds. "We want to continue to provide and encourage opportunities to connect and learn outdoors for this reason."
Six weeks after planting, they are beginning to reap the rewards of the harvest. Staff members recently picked different varieties of lettuce, kale, tomatoes and peppers.
Czajka led the group in planting in June. Just like the rest of the gardeners, they pledge to donate at least half of what they grow. But they also plan to find creative ways to utilize the rest of their yield, possibly in kitchen classes at the Makerplace.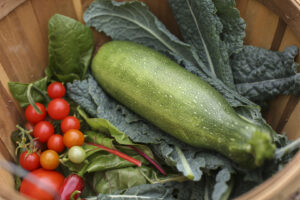 "We'll share the food and the story of how we grew the food locally," Czajka says. "In connecting the dots in these small ways, we are able to bring awareness and inspiration to community members who are looking to take that first step to plant their first garden, or who are looking to connect with fellow gardeners."
She adds that the library's gardening programs in the past have appealed to teens and adults alike. In fact, they are among the library's most popular programs.
"We are always looking to create educational opportunities and even just connect people with nature," Czajka says. "There is so much to learn outdoors which can't be easily replicated indoors."
Please follow and like us: