Buying a restaurant in the middle of the pandemic might not be everyone's cup of tea, but for Tim and Stacey Grodek of Rolling Meadows, well, they threw caution to the wind. They took over Peggy Kinnane's Irish Restaurant & Pub in June, 2021 and they haven't looked back.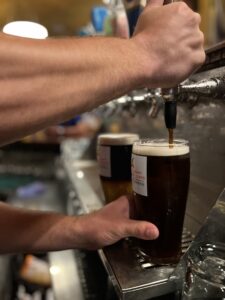 "We did the thing we know best, we put our heads down and got to work," says Stacey, who grew up in Mount Prospect and pitches in as a server, manager and jack of all trades when she's not home with the couple's three children.
"We can really only control what happens inside the restaurant with our customer experience," she adds. "Most restaurants worry about the things they can't control, like a pandemic, and forget to focus on the most important thing, the customers — once they are inside the building."
Tim Grodek brought solid restaurant experience to the business. He worked for Pappadeaux Seafood Kitchens for 20 years, including 13 as its general manager in the Westmont location. He and Stacey bought the pub from its original owner and founder, Derek Hanley of Palatine.
The Ireland native started the pub in 2000, in the center of downtown Arlington Heights. Its interior consists mainly of original Irish stone from County Clare, with the woodwork, including the bars themselves, having been constructed and shipped directly from Ireland.
The Grodeks have kept all of the pub's authentic Irish feel, with its well appointed taproom and stocked bourbon and whiskey collection, though they have slowly tweaked the menu a wee bit.
"With all of the other popular ethnic restaurants around us, I knew we needed to offer a broad range of choices," Tim Grodek says, "as well as fish and chips, and shepherd's pie."
Mostly, what the Grodeks saw in buying the restaurant was its community roots. Tim Grodek grew up in Hoffman Estates and attended Saint Viator High School, where he played soccer, and saw firsthand the pub's ability to draw people together.
"The whole attraction for us was the community aspect of working for and serving the community," says Grodek, who with his wife has actively supported charitable causes in the area.
Still, their new ownership was not without its bumps in the road. Just weeks after taking over the pub, a series of mishaps happened, from a power outage to the printer going down to the hood fan in the kitchen going out.
"I thought the place was cursed," Grodek quips. "I thought maybe a blessing would change our luck."
He turned to Fr. Charles Bolser, the Viatorian priest who served as president of Saint Viator High School when Grodek was there, and Fr. Daniel Lydon, his former Spanish teacher and now high school president, for good measure.
The blessing included sprinkling holy water at various places throughout the bar and restaurant, in the kitchen, and on the new young owners themselves.
"It have to say," Grodek says, "it was pretty cool."
Please follow and like us: