Members of the Rotary Club of Arlington Heights spent four hours on Wednesday stuffing more than 1,500 swag bags filled with giveaways from local sponsors. It's a good problem to have, says Race Director Gary Silha. As it stands now, race entries are up nearly 40% over last year.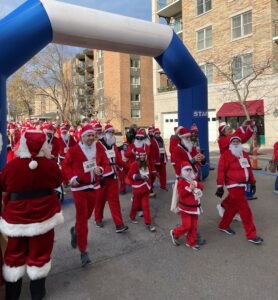 This is the 15th year for the club's Santa Run and it takes place Saturday, Dec. 3, with the start and finish in front of the Metropolis Performing Arts Centre, 111 W. Campbell St. The event begins at 9:30 a.m. with the kids' Reindeer Dash. Warm-ups for runners follow at 9:45, as participants line up. The race starts promptly at 10 a.m. and weaves runners through the surrounding neighborhoods. Find out more about registration, here.
Of course, what makes this 5K run and walk different is the five-piece Santa suit that every runner receives. Organizers say that for the first time, the suit does not fit in the swag bag, because of the generous gifts from sponsors.
Silha says that he monitors the number of race entries every morning, and especially this week, as the event draws closer.
"Last year, during the week before the race, they had about 300 registrations, to get them to the final number of 1,137," he says. "We're already at 1,401, so this is a big week, when we could potentially hit 1,600."
If they do, that would be 100 more than the club's goal, though it's not a record. Silha says at its peak, the race drew 2,000 runners, but that was before surrounding Rotary clubs started organizing similar Santa runs.
In looking at the numbers, Silha credits Laura Lian Williams and her Laura Lian Design Studio with heightening the event's visibility.
Williams is a native of Prospect Heights and a Saint Viator High School graduate, who has quickly developed a business that specializes in branding, strategy and execution. She started the studio in 2019 and now runs it with her husband, Dirk Vander Noot, a Mount Prospect native and Hersey High School grad.
For the Santa run, she simplified its website to a one-page, graphic-driven site, that Silha describes as much more user-friendly. She also worked with social media director, Joe Musilino, to heighten the race's presence on Facebook and Instagram, as well as in email campaigns.
Williams says she wanted to make the run-up much more visual, rather than relying on graphics.
"We're so visual these days," she says. "I wanted to show the faces, the expressions of people in Santa suits having so much fun."
She also encouraged race organizers to be more strategic with their posts and e-blasts, by emphasizing quality over quantity and with custom themes, from the family tradition of the race to testimonials from sponsors and runners.
"I think of branding and design like an experience," WIlliams says. "It has to be thoughtful, so it makes a true impact."
All proceeds from the Santa Run– which are up with the larger turnout —  benefit the Rotary Club's many community grants and international charity work.
Please follow and like us: