Vera Conic finishes up her first semester of freshman year this week at Rolling Meadows High School, but already she holds a place of distinction. At last month's girls' state swimming finals, held at the FMC Natatorium in Westmont, Vera took first place in the 100-yard backstroke, with a time of 55.09.
She is the first individual state champion in girls' swimming history at Rolling Meadows. In late November, Vera was honored at an all-school assembly, where she stood in front of a giant banner featuring her with her medal, as her classmates watched a video of her historic race. Later, she was recognized at a Northwest Suburban High School District 214 board meeting.
"My goal at the beginning of the season was to make state," Vera says, "so it's pretty cool for me to have this be the end result."
She only started swimming at the age of 7. As a resident of Rolling Meadows, her parents signed her up for the local competitive swim program, the Rolling Meadows Rapids. One year later, Vera joined the Palatine Park District Tiger Sharks, which is a USA swimming, year-round competitive program.
"By the time I was 10, swimming became my main focus," Vera says. "I just loved swimming and competing."
For the last four years, Vera has worked with Coach Dustin Thompson with the Palatine Park District. Their practices range from Harper College to Fremd or Palatine high schools.
"He has inspired me as a person and as a swimmer," Vera says, "to grow and keep getting better."
At the same time, she credits her coach at Rolling Meadows, Monika Chiappetta, with helping her adjust to high school swimming. Chiappetta now is in her 24th year coaching both the boys and girls swim teams at Rolling Meadows.
In an interview with reporter Rupsa Mitra for Mustang Media, Chiappetta described Vera as "an incredible student of the sport of swimming" and one of the hardest workers on the team.
"She had the same mindset in everything she did, whether a race or a (practice) set — attack," Chiappetta told Mitra. "She came to Rolling Meadows very accomplished in club swimming, but IHSA swimming is a different beast."
Vera agreed, saying:  "Monika helped me to get through my first high school season."
After the state meet, Vera took one day off from practicing but was back in the pool on Monday. Earlier this month, she competed in the Junior Nationals West Championship, in Austin, TX, where she bettered her time in the 100-yard back, with a 54 second flat. She placed 18th in that event and 9th in the 200-yard backstroke finals.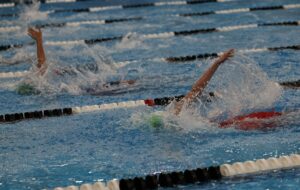 So where does she go from here?
"My goal next year is to swim faster than I did this year, and make it to the finals in a second event, like the 100-yd IM," Vera says. "My future goal is to make the cut for the Olympic trials in 2024 in Indy."
Just one semester into her high school career, the sky seems to be the limit for this local teen, who's making quite a splash.
Please follow and like us: