Barb Granado and her comfort dog, Hannah, never get used to it: looking into the face of terrible grief. But for the last 10 years, they have done just that in their roles with the Comfort Dog Ministry of Lutheran Church Charities.
Just this week, Granado and Hannah were on hand at a teacher's institute day for Palatine Township Elementary District 15 teachers. The district had asked for the comfort dogs after the death of the Dobosz family from Rolling Meadows, and their friend, 13-year-old Katriona Koziara, in an automobile accident.
On Thursday, Granado and Hannah, as well as other handlers and their dogs, including Lea Kelly of Lake Zurich and her comfort dog, Malachi – sponsored by St. Matthew Lutheran Church in Hawthorn Woods — were at the schools for the first day. The group also included dogs and their handlers from Lutheran churches in Elgin, Grayslake, Park Ridge and Zion.
"It's so rewarding," Kelly says. "I feel like I'm making a difference."
Last month, both handlers and their dogs were among more than a dozen teams who were dispatched to Highland Park, in the wake of the shooting massacre on July 4th.
Kelly, who had spent 31 years as a 911 dispatch director, thought she had heard everything. The shooting shook her to the bone, but the first place she and Malachi visited were the two 911 dispatch centers – in Highland Park and Glenview — that had responded to the shootings.
"It was very stressful," Kelly said, "but they loved the dogs – and the dogs loved them."
Granado first became involved in the Comfort Dog Ministry in 2012. She was an active member of St. Peter's Lutheran Church in Arlington Heights and got to know the founder of the ministry, Tim Hetzner, through a Bible study class.
"It was listening to his amazing stories of how the dogs touched the lives of children and adults alike that inspired me to become a handler," she says.
When the church stepped up to sponsor a dog, Hannah, Granado started training. Within months, the two would be called – by Hetzner – to respond to an unthinkable tragedy: the shooting massacre in Newtown, CT. Granado says she felt she wasn't ready, Hetzner persisted. They needed as many dogs as possible to come and offer unconditional comfort.
"I thought of those families and how in an instant their lives had been shattered," Granado says. "We couldn't back down."
Hetzner formed the K9 Comfort Dog ministry in 2008, after responding to the shooting massacre at Northern Illinois University and seeing the full impact of an animal in traumatic situations. What started with four dogs now includes more than 130 comfort dogs in 26 states.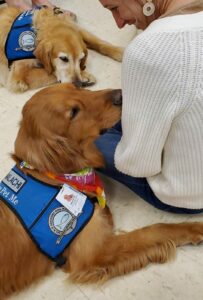 Granado and Hannah have responded to countless tragedies – always when asked – and she never turns away from the raw grief that she faces.
"It's such a beautiful ministry," she says. "You just touch hearts. (The comfort dogs) have such a profound effect on people – and on me."
Please follow and like us: