Kerri Largo teaches a business incubator class at Hoffman Estates High School and she also serves as chair of the business education department. Yet, even she admits she didn't know what an NFT was until two years ago when she learned about them from her students.
Now, she's an expert and a huge fan. And for good reason. NFTs or non-fungible tokens, are unique digital or real world items, like art work, that have their own identification codes and metadata to distinguish them from others. Consequently, after learning about NFTs from her students, Largo purchased one of NFL quarterback Tom Brady.
As luck would have it, her NFT included an invitation to participate in a social media contest, using AR, or augmented reality as in computer-generated content. It turns out that Largo bought her NFT through the company, Autograph, which is owned by Brady. The company hosted a party for NFT holders in March in Tampa, and then developed the social media contest as a way to promote their company.
"You would place a Tom Brady virtual statue in various places and post on Twitter or Instagram, promoting your business with certain hashtags," Largo says. "Creativity was key!"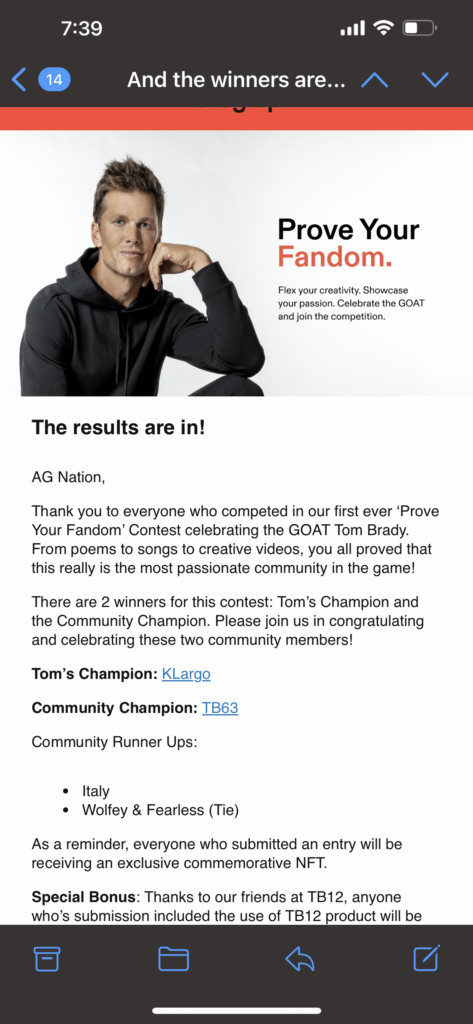 Largo worked with her students to create her entry and she ended up being one of the top 12 winners.
 "I'm thrilled that the skills I helped teach my students — and they helped teach me — paid off in this way," Largo say. "At this party, Tom called me on stage, shook my hand, and took a group picture with all 12 winners. I then asked for a selfie right after the group picture. It was really amazing—a dream come true! I've been a fan since the day he stepped onto the field for an injured Drew Bledsoe in 2001!"
But that's not all. Autograph created another contest in June, called Prove Your Fandom, where entrants were encouraged to submit photos, poems, videos or anything that creatively captured their fandom for Brady. According to Largo, there were nearly 90 submissions. Here's a link to her winning entry.
"One winner was voted on by anyone who submitted an entry, and one winner was chosen by Tom himself," she says. "I was the 'Tom's Choice' winner!"
The whole experience has prompted Largo to talk in class about how companies creatively use contests to promote their business — and brand — through user-generated content. At the same time, it motivated her to use what she taught in class in her own posts.
"I also talk about Tom Brady in class from a motivational lens," Largo adds. "I like to share how he was 199th in the draft but worked hard to become the greatest (hard work pays off!). Or I share how he was down 28-3 towards the end of the 3rd quarter in Super Bowl 51 but didn't give up.
"So no matter what they have going on — at home or challenges at school — they should NEVER give up," Largo says. "Tom didn't and he won the Super Bowl."
Please follow and like us: