After an unprecedented sold-out run of The Addams Family: The Musical, officials at the Metropolis Performing Arts Centre added one more show. Closing night now takes place at 7:30 p.m. Sunday, Oct. 8.
Artistic Director Brendan Ragan points to several reasons for its success, and they go beyond the timing of the macabre musical, running before Halloween.
"First, we invested in professional artists and production elements at a higher rate than Metropolis has in the recent past, and Robbie Simpson's direction is excellent," Ragan says. "Both of these are contributing to a new standard of artistry we're aiming to maintain into the future.
"Secondly, we developed a $20 student ticket for this production, which has been a huge hit," he adds. "We've sold nearly 800 student tickets, a wonderful total for a main stage musical."
The Addams Family: The Musical debuted on Broadway in 2010 and went on to win two Tony awards. It was created by the writers of the Tony Award-winning Jersey Boys, Marshall Brickman and Rick Elice, and explores the importance of every kind of family.
Its story revolves around Wednesday Addams, who has grown up and fallen in love with a young man from a respectable family. How does she break it to her family? What's worse, the Addams family must host a dinner for Wednesday's "normal" boyfriend and his "regular" parents. What could go wrong?
Ragan points to the direction of former acting artistic director, Robbie Simpson, with elevating the show. Simpson lives and works in New York, where he has appeared in multiple productions and currently serves as Director of Musical Theatre at the Stella Adler Studio of Acting.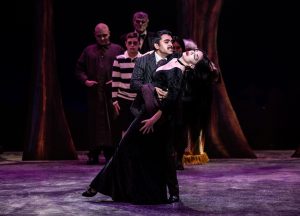 Joining Simpson on the production team is Aaron Kaplan as Music Director, Jeni Donahue as Choreographer, and Kyle Aschbrenner as Stage Manager.
The show stars Courtney San Pedro as Wednesday, Enzo Donoso as her father, Gomez, and Kaity Pascgetti as Morticia. Rounding out the cast are Elliot Mayeda as younger brother Pugsley, Josh Frink as Uncle Fester, Kent Joseph as Lurch, Jenny Rudnick as the grandmother, Dru Loman as Wednesday's love interest, and Savannah Sinclair and Christopher Johnson as his parents.
Ragan says the show's successful run bears out his theory that The Addams Family has a multi-generational appeal.
"Folks from 9 to 90 all have some kind of relationship with some iteration of it, whether it's a comic book, movie, or Netflix series," he says. "It's a top-rate, joyful show with appealing and recognizable characters. What's not to love!"
Find ticket information for The Addams Family: The Musical, here.
Please follow and like us: