Isabel Pollpeter and her twin sister, Abby, already hold the distinction of being among the first female members of Boy Scout Troop 209G in Palatine, and now they were among the first three to complete their Eagle Scout projects.
In Isabel's case, she led some of her fellow Scouts in installing 33 replica birdhouses on property in Rolling Meadows that was gifted to the Rolling Meadows Park District.
The 3-acre property, located west of Rohlwing Road in Rolling Meadows, was formerly owned by Paul and Joann Icenogle, who both taught at Conant High School and were master gardeners. The couple collected the birdhouses on their travels, with the hopes of creating a haven for a variety of bird species on their property.
Paul Icenogle died in 2009 and Joann died in 2020, gifting the property to the Rolling Meadows Park District. While the property is not yet open to the public, park district officials plan to design the Icenogle site to provide opportunities for individual growth and community connections through education, nature-based play and environmental stewardship,
"Isabel could have chosen a lot of different projects with a lot of different organizations," said Superintendent of Parks Brian McKenna, "but she is passionate about giving back to the environment and the community."
A whole crew of volunteers at the Rolling Meadows Senior Center woodshop worked to create the replica birdhouses, incorporating much of their original architecture. According to Terry O'Connor, who led the woodworking project, several of the new structures feature the tiniest of detail. Think rotundas, steeples and pitched rooftops. Consequently O'Connor thinks of them as more than birdhouses. He calls them "custom nesting homes."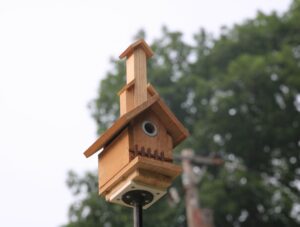 Before their actual installation, Isabel created a database for each birdhouse and instruction sheets detailing the proper installation for each house. On project day, a work crew — including Scouts, family members and park district staff — dug 3-foot holes using electric augers and post hole diggers. After that, they inserted a steel pipe attached to each birdhouse into its hole and secured the pipe with limestone screening and water. They repeated the process 33 times for all 33 birdhouses.
Isabel is the first female Scout to work with the Rolling Meadows Park District on an Eagle project. She says that while staff members suggested several options, the birdhouses spoke to her.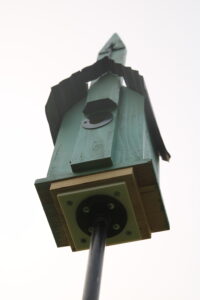 "I have an interest in protecting the environment and conservation," says Isabel, who will be a senior at Fremd High School. "It's really important to conserve what we have and to find renewable ways to enjoy our lives with the future in mind."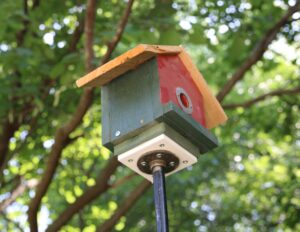 With the birdhouses installed and already drawing birds, park district officials are working to convert the property into a park district destination.
"The park district is researching various firms to complete this important first step and hopes to commence on a master plan for the property during its 2023-24 budget cycle," says Executive Director Kevin Romejko. "The roadmap of a well thought-out master plan will help guide future development of the property."
Please follow and like us: