John Camardella coached basketball at Prospect for 18 years and he is in his 20th year as a teacher. But don't expect him to draw up plays at his appearance this week at St. James Church. Instead, he'll be talking about an archeological dig in the Holy Land — and just how he got there.
Camardella is the latest speaker to address the Contemporary Theology Group for Women at St. James. He will speak at 7 p.m. on Wednesday, Jan. 18 in the church, as part of his passion to promote religious literacy, in an increasingly diverse world. The event is free and open to the public.
Since 2009, Camardella has taught a World Religion course offered through the Social Studies department at Prospect. It continues to be one of the most popular electives in the school. This year, he teaches five sections each day, or 140 students per semester, in a course that is dual-credited through Eastern Illinois University.
Camardella returned to this year to Prospect, after taking a sabbatical last year. He was one of only 11 students accepted into a new master's program at Harvard, called Religion and Public Life. During his year in Cambridge, Camardella published his thesis on "Reimagining Religion in the Public School Classroom."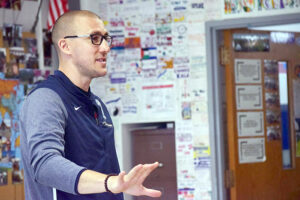 "With all this training in diversity, equity and inclusion, no one talks about religion," he says, "or if they do, they talk about it at a surface level."
Now, armed with his degree and recognized as a fellow at Harvard, Camardella works with high school teachers and administrators, giving professional development on how to teach religion in an impactful way.
"It's critical," he says, "living in a pluralistic democracy, that people are informed."
At St. James, he expects to talk about the need for religious literacy in public schools, but he also will share some of his experiences from traveling in May to the Holy Land. As part of a Biblical archaeology elective, he worked on a pair of  ancient dig sites recently discovered in Galilee.
"The Israeli Antiquity Society allowed me to take home some of the small artifacts that I discovered," Camardella says. "They were too small for a museum."
It all adds up to a thought provoking evening, and one that explores Jesus, Muhammad and Buddha, for starters, as faith leaders rooted in history — and figures who differ wildly, depending on the culture in where they are embedded.
Kathleen Kasprowicz, who invited Camardella, says the women's group now attends his classes every month for parents.
"We find John to be brilliant and fascinating," Kasprowicz says. "He studies different religions, visits the site where they are practiced and then brings all that expertise to his students in an interesting and engaging way. We're thrilled to have him as our next guest speaker."
Please follow and like us: