Don Grossnickle built an impressive career in education, starting out at Palatine High School and eventually serving as Director of Instruction and Curriculum at Addison Trail High School.
And while he still serves as a substitute teacher occasionally, his real passion lies in the medical advancements he and others are bringing to the mothers and babies in rural Uganda.
That passion will be on display at 7 p.m. Nov. 18, during a fundraising event for the MAAP Foundation, whose mission is make miraculous stories come to life for women and babies in Uganda. The event takes place at the Life Center, 150 S. Lageschulte St. in Barrington. Admission is $10. Register here.
Grossnickle has put together an evening of what he calls, "Thanksgiving Stories."  He has assembled a panel of "master storytellers" who will share inspiring stories. They include a trio of former Daily Herald writers, Burt Constable, Erin Holmes and me, Eileen Daday, now writing for SuburbTalk.
A featured presenter will be Kathy Janus, an Arlington Heights native who has found new life after dealing with the death of her father and other family members 40 years ago during the Tylenol  murders. Singer Wayne Messmer, who has an inspirational story of his own, rounds out the panel and will serve as emcee.
Grossnickle started the MAAP Foundation, or Microfinance Alliance African Projects, in 2018, after visiting Uganda for the ordination of a friend. Grossnickle, himself, is an ordained deacon serving at Our Lady of the Wayside Church in Arlington Heights.
It was during a chance visit to a clinic for mothers and babies, that he met Mother Teo, a midwife and founder of St. Jude's Clinic. She described the complications pregnant mothers faced, like dehydration, infections, hypertension, malaria, pre-eclampsia or in need of a C-section to safely deliver their babies, and their scarce resources to treat them.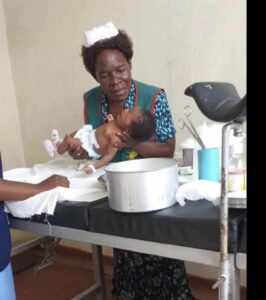 Grossnickle promised to raise awareness of her mission back in the United States, and the MAAP Foundation was born. Over the last four years, he and volunteer supporters have worked tirelessly to fundraise for this clinic and others. They now work with a Uganda national medical advisory council, whose professionals advise the foundation on everything from logistics to analyzing the more than 1,000 private clinical projects that request funding.
Learn more about this mission, and hear other inspiring stories at the event timed a week before Thanksgiving.
Please follow and like us: