Aditya Gupta of Rolling Meadows is an Illinois Junior Chess Champion and a Chess National Master. Just this year, he was one of five students chosen nationally to receive the Chess Scholar Award from the U.S. Chess Federation. Yet, it's not the awards that are driving him, but a passion to share the benefits of chess with more players.
As the captain of the chess team at Fremd High School, Aditya and his classmates have set up feeder programs at middle schools in Palatine and Rolling Meadows. Aditya himself has designed a nonprofit website dedicated to growing the activity, called ChessPupils.com.
Aditya's latest endeavor is to share his know-how in a book. Becoming a Chess Master: Practical Tips and Strategies offers a comprehensive approach to learning the game, and for experienced players, refining their skills.
Consider some of the topics covered:
Tactical Skills
Strategic Technique
Preparing Your Openings
Middle Game Mastery
Endgame Excellence
Time Management
"I started out writing it as a long article," Aditya says, "but slowly it became a book."
Already, the book has become the No. 2 new release among chess books on Amazon. Its 170 pages include photos and graphics, including different chess positions set up on the board.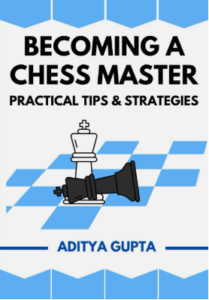 "I really wanted those graphics so that you could set it up on your own chess board and think through it," Aditya says.
With all of his national experience, Aditya still enjoys playing on Fremd's team, where he is a second year team captain, and competing in the Mid Suburban League and IHSA state series. Under his leadership, Fremd placed fourth in the state last spring.
Still, his coach, Matt Zimolzak, says Aditya's leadership has helped take the Fremd chess program to another level.
"He's been instrumental in getting our community outreach going, setting up an executive board that offers training and outreach," Zimolzak says.
It all adds up to a passion for chess that is growing at Fremd — where more than 50 students participate on its team — and among its feeder schools.
"With Aditya's help, we have a different level of expectations and now are working to implement technology into the game." Zimolzak says. "We're just at a different level than other schools."
Copies of Aditya's book are available on Amazon.
Please follow and like us: