It's been 15 years since the Hersey Automotive Technology program has hosted an auto show, but this year the stars aligned. Students in the classes are partnering with Hersey's Service Over Self (SOS) program to present the show May 7, from 11 a.m. to 3 p.m.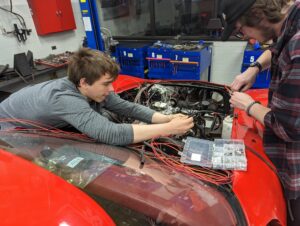 The show will take place in Hersey's West lot and organizers are taking applications to register cars now. They expect to draw more than 100 cars for the free show.
What sets this car show apart is its beneficiary: Lemons of Love, which shares personalized care packages, programs and support with people affected by cancer. Portions of each car registration will benefit the charity, which is based in Des Plaines and has an additional resource center in Mount Prospect.
Jim Van Bladel, who teaches the auto courses at Hersey, knows Jill Swanson, who started Lemons of Love. She is a cancer survivor and veteran of the motorsport industry, with her company, Fresh Air Systems Technology, (F.A.S.T. Cooling), which makes cool suits for professional racing drivers.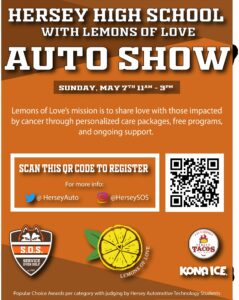 "Lemons of Love is thrilled to be the recipient of this fundraising effort," Swanson says. "I love that Hersey is involving many departments in the school to make this happen. Lemons of Love is not only the recipient of the event, it heightens awareness for what we do for the cancer community, while showcasing the hard work of these students."
Lemons of Love carries out its mission quietly, but has provided more than 27,000 care packages worldwide, since Lemons of Love created its donation program in 2015. The organization has sent packages to all 50 states as well as 17 countries.
In addition, its Lemons of Love resource center in Mount Prospect offers free programs for those impacted by cancer, such as yoga, nutrition, wellness and craft classes, to name a few.
This may be Hersey's first car show in 15 years, but other schools in Northwest Suburban High School District 214 host them regularly, including Wheeling and Elk Grove high schools.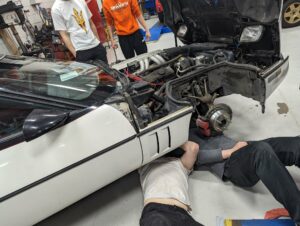 The festive show also shines a spotlight on Hersey's Auto Technology program, which is an ASE Accredited training program. Students can take up to four years of auto to learn everything from the basics of vehicle ownership and maintenance to earning dual credit through Triton College and more than 10 industry level certifications before graduation. The intro class starts with what the students should know before buying their first car, such as how to check fluids and fill tires, among other skills.
"I know that not every student that goes through the program will be entering the automotive industry as a career," Van Bladel says, "but just about everyone will own a car and need to have one serviced. Students should know what they are paying for, and feel confident when they take their car in for service."
The courses at Hersey are designed to benefit anyone that will be interacting with cars as a part of their daily life, he says. After graduating, students have entered the industry as technicians at dealerships and independent repair facilities, as well as others working as fleet managers, service managers, efficiency consultants, and at major manufacturer headquarters in Detroit.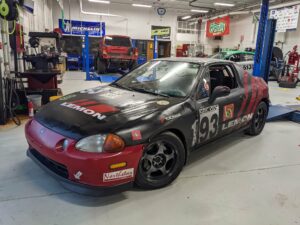 "Automotive technology is a 100 billion dollar industry, and it is looking for qualified people in every aspect, from service and sales to design and engineering," Van Bladel adds. "The industry needs technicians, and it is an amazing career path for some, but it is not for everyone. My goal is to show students as many options as possible, and let them know how to get the training they need to succeed, no matter what path they follow."
To register a car or donate, visit: https://www.classy.org/event/hersey-auto-show/e434725
Please follow and like us: