A whole host of kids stepped up to cut the ribbon at the dedication of Cardinal Drive Park in Rolling Meadows. The faster to get to the new playground equipment and brand new pickle ball courts, they reckoned.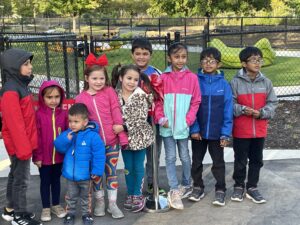 In fact, there was a buzz of excitement surrounding the grand opening celebration Tuesday, in part to see the city's first dedicated pickle ball courts. With local dignitaries on hand and loads of area families, park district officials proudly unveiled the new park and all of its amenities.
"In 2019, we embarked on a new journey," said Executive Director Kevin Romejko, "to play, learn and grow."
The original Cardinal Drive Park, located along Salt Creek, just south of the intersection of Campbell Street and Cardinal Drive in Rolling Meadows, dates back to 1961. Yet renovating the 60-year old park involved more than replacing the playground.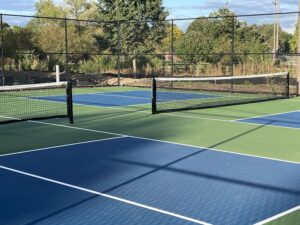 As Brian McKenna, Superintendent of Parks, explained he had to obtain permits from four different agencies in order to proceed, including the Army Corps of Engineers, the Metropolitan Water Reclamation District, the City of Rolling Meadows and the Illinois Department of Natural Resources.
"A lot of it was to make sure we didn't disturb the wetlands," McKenna said. "Working with all these agencies to get permitting took one year."
Part of the work included building a rain garden and compensatory pond to store water before it runs into the creek. They've also planted native plants designed to draw butterflies and birds, McKenna added.
Timing was crucial. Back in 2019, the park district applied for a grant from the Illinois Department of Natural Resources, as part of its Open Space Lands Acquisition and Development program. But they had to complete construction within two years of receiving the grant, which they were awarded in 2020.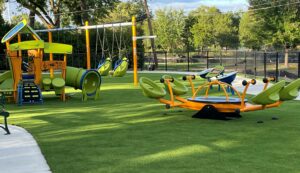 Most of the work installing the playground equipment — with its different age-related areas, inclusive equipment and all atop thick safety surfacing — as well as painting and striping the pickle ball court, was done in-house, by park district employees.
"Most of the employees live in town," McKenna says. "It's our community. To complete a project like this, it's personal."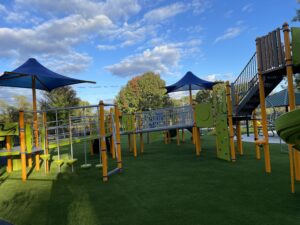 The brand new Cardinal Drive Park is the fifth park installed on the banks of Salt Creek. These parks offer a variety of features — from a zipline, to a disc golf course, to the bike path which links up to the Rolling Meadows bike trail system — making the creek and its wetlands, and play areas along the way, a destination to discover.
Please follow and like us: