"Adoption is complicated and costly."
That pretty much sums up what drives Jenna Tumberger, who has a successful career in IT sales, but now is finding her voice — and leadership — in helping adoptive families navigate their journey.
Tumberger was featured last month on CBS 2 as a "Changemaker." The weekly series features interviews with Chicago area people who are stepping up to solve problems, meet needs and help people in their own communities.
CBS 2 reporter Audrina Bigos Tumberger discovered Tumberger and her unique foundation, the Bound with Love Foundation, which works to help families afford a private adoption through grants. But she also highlighted how the foundation serves as an educational resource for prospective adoptive parents, while celebrating modern motherhood and modern family dynamics.
Tumberger, and her husband, Dan Bergschneider, who serves as executive director and board chair of the foundation, discovered this void in the adoptive process while navigating it themselves. After a months-long journey, the couple "matched" and within two days brought home their 5-year old son, Christopher.
During the process, Tumberger created My Lifebook: An Adoption Story — which is a baby book for adoptees — as a fundraiser during their own adoption journey. The books drew such a big response that Tumberger discovered this large adoptive community, who shared the emotional roller coaster of going through adoption.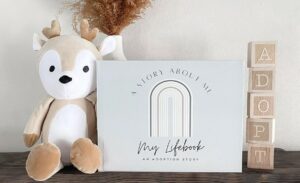 "There was one topic that always seemed to be a high stressor: funding," Tumberger says. "Fees for domestic adoption services can vary drastically and domestic adoption costs are rising, now averaging $65,000 and can easily reach over $80,000.
"Sadly, a little-known secret is that unexpected adoption fees come up too," she adds, "such as prolonged travel stays or contested adoptions after the child is placed with the adoptive family. Another secret to those outside of adoption-world is that not all adoption 'matches' end in adoption. When this happens, prospective adoptive parents are usually at a significant financial and emotional loss."
While Tumberger and her foundation cannot solve all the adoption problems, they are starting by offering grants to families going through a domestic adoption process. They began accepting their first round of applications May 15, and the process will close June 23, before the first grants are announced July 1.
During the CBS 2 segment, Tumberger announced they would be awarding $5,000 in grants during this first cycle, or $2,500 to two different families.
"As we continue to build momentum," she said, "the sky's the limit as to how many people we can help."
Learn more about the Bound with Love Foundation and its adoption resources, here, and check out its major fundraiser, Driving Them Home, which takes place Aug. 20 at TopGolf in Naperville.
Please follow and like us: