It started eight years ago when Laura Dakas, lead outreach specialist at the Arlington Heights Memorial Library, turned a decor pumpkin purchased at Michaels into one of her favorite storybook characters, Arthur.
What started as an expression of her crafty side and work at the library promoting reading, turned into a beloved exhibit. The display case in Kids' World at the library now features 30 decorated pumpkins, all designed by different staff members to characterize their favorite storybook character.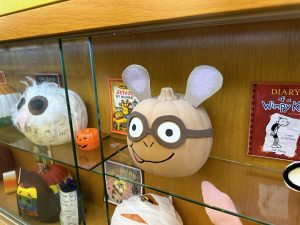 "I think I saw it at another library, and since we had this enclosed space I thought we could create an exhibit out of it," Dakas says. "It had to be storybook characters, so it would be kid-friendly and promote literacy at the same time."
Each year, Dakas returns to MIchaels to purchase the mini decor pumpkins and she sets them out on the front desk, encouraging staff members to decorate one. Over the years, people have retired or left, or even passed away, but their pumpkins remain at the library. Consequently, the exhibit continues to grow.
The whimsical collection ranges from traditional characters, like Dorothy and the Tin Man from the Wizard of Oz, to Fancy Nancy and Bear Feels Scared. Other popular pumpkins include ones from Olivia, Owl Babies and the Elephant and Piggie series. The two newest ones, added this year, are of the elephant from Rumble in the Jungle and Go, Dog, Go.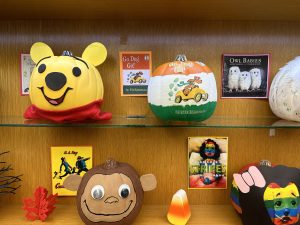 The display case might be overlooked by adults, but not by young patrons of Kids' World, since it is set down low, at their eye level. In fact, children can be found peering their noses up to the display, the better to take in their favorite storybook character.
The pumpkins will remain on display until mid-November, Dakas says, all of which is bittersweet. She is set to retire next month after 26 years at the library. Over her long career, "Miss Laura" has led storytimes — both at the library and at different schools and daycare centers, while filling book bags and coordinating with teachers about visits.
"For many years, it was just me, but now I have a team," Dakas says. "It's been very busy, but pulling out these pumpkins each year has been my favorite time of year. I'm kind of getting sentimental knowing it's my last one."
So sentimental, in fact, that she just may take her Arthur pumpkin with her. But no doubt new storybook characters will fill the case and keep this cherished Halloween tradition going for years to come.
Please follow and like us: