What do arcade games, Chicago's suburbs and the space program share in common? They all benefited from military applications developed during the Cold War, that led to the technology behind manned space flights, and yes, arcade games.
That's one of the educational components gleaned from the Arcade Age exhibit running through Jan. 15 at the Arlington Heights Memorial Library. The exhibit opened in November and features 12 arcade games spread throughout the library's main floor, like Q*bert, Street Fighter 2, Joust and Pac-Man, to name a few.
"The exhibit has been wildly popular," says Emily Muszynski, Programs & Exhibits Specialist for the library. "The intergenerational aspect of it has been very surprising. We thought we'd draw a lot of Generation Xers and maybe some Boomers, but we've been getting all ages and families coming through the door."
The free exhibit was developed by the Cradle of Aviation Museum and Education Center, located on Long Island. The Friends of the Library sponsored the exhibit, which is the first one held out of New York. While the chance to go back and play the games that many adults grew up on — and introduce a new generation to them — is the draw, it's their history and relationship to STEM education that is the takeaway.
"The basic computing behind video games was developed during the Cold War and space flights," says Seamus Keane, who developed the exhibit for the Cradle of Aviation Museum. "That initial technology led to the creation of some of the early video games."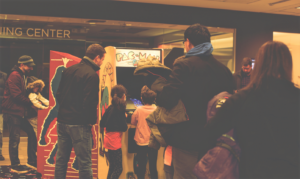 What's more, he adds, many of those early games were developed and licensed in Chicago and its suburbs. Take Pac-Man, he says. It was licensed in this country by the Chicago company, Bally Manufacturing, and defined a generation of young people who grew up in the '80s.
Muszynski and her staff estimate that at any one time, there are at least 20 people playing the games and exploring the surrounding panels that describe their history. While she agrees that the exhibit flies in the face of the traditional perception of a quiet library, that's just the point.
"We're always looking to create community," she says, "where people can come learn new things, be entertained and enjoy being here. We see the library as a space for education and connection, and embracing the community."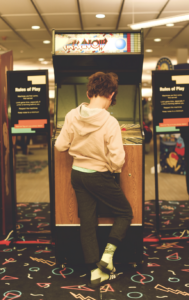 As for Keane, he and his crew personally installed the games at the library, out of the entire collection of 70 arcades in the New York museum. He returns at 1 p.m. Jan. 15 to meet with patrons and discuss the evolution of gaming and its Chicago roots, before the exhibit returns to New York.
"When we installed the games," Keane says, "I thought, 'These games are coming home.' "
Register to meet Keane and hear his presentation, here. Admission is free.
Please follow and like us: