Parishioners at St. Raymond de Penafort Church in Mount Prospect are bracing for a crowd Friday night. Their popular Lenten fish fry dinners are back — for the 20th year — and the numbers of patrons they draw are staggering.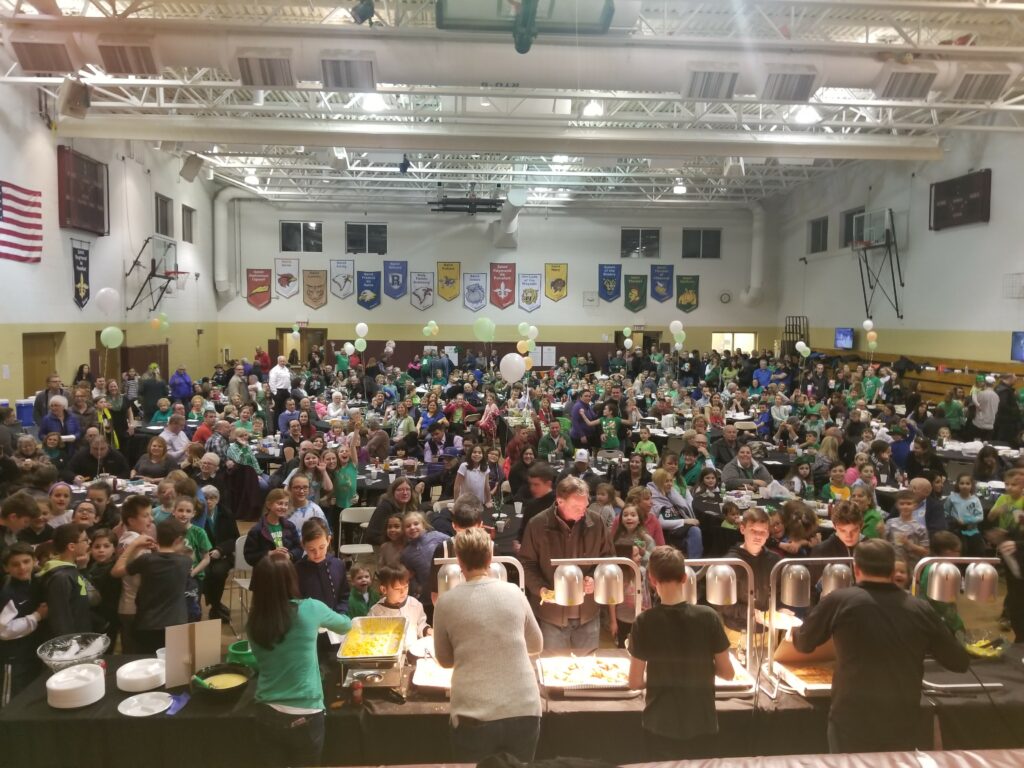 "We have three fish fry nights each Lent and we serve somewhere between 1,600-2,000 meals, or between 500-700 people for each fish fry," says Libby Bullock who runs the dinners with Corrie Cogan. "There are nearby restaurants that would love to say that."
This season's fish fry nights take place from 5-8 p.m. March 3, 10 and 24, with a special St. Patrick's Day celebration on March 10, complete with Guinness and Harp on tap, and a special appearance by the Dillon-Gavin School of Irish Dancers. Tickets at the door are $15 for adults, $14 for seniors and $8 for children. Proceeds benefit St. Raymond's diverse ministries.
The in-house food prep begins with teams of volunteers thawing the fish on Tuesdays, before another team assembles to do meal prep, from mixing the breading with special seasoning, to coating the fish and preparing it to be deep fried, right down to slicing the lemons.
Speaking of lemons, that was the job of parishioner, Don Burke, who pitched in right from the start. Now, 93, he has retired from the cutting board, but he still drops in as an ambassador of sorts, handing out lollipops to children and visiting with parishioners young and old.
That's the kind of friendly atmosphere that has made this fish fry stand the test of time.
"Right from the start, everyone wanted to help," says Krissy Olson who brought the idea to St. Raymond's from her home parish in St. Louis. "It was amazing."
She points to the help of Boy Scout and Girl Scout troops, as well as Prospect and Saint Viator high school teens earning service hours, with a variety of parishioners helping with set-up and clean-up, as well as ticket sales, supervising the kitchen and manning the cash bar.
Olson ran it for more than 10 years with the help of Carol Mazanek and Dave Cole, before handing over the reins to Bullock and Cogan, but their recipe for success continues.
"We wanted to create an event where parents could bring their families, get out on a Friday night and meet other families," Olson says. "It's become a great community builder for the parish and a real bonding time for families."
At first, volunteer cooks worked under a tent — inspected every year by the Mount Prospect Fire Department — to deep fry the fish and French fries. Within a few years, the parish built a permanent structure, or the fish hut as parishioners call it, for the separate deep fryers for the fish and French fries.
"We take great pride in the quality of our food," Bullock adds.
An expanded menu allows patrons to choose fried cod, shrimp or Tortorice's cheese pizza for their entree, before selecting two side dishes: macaroni and cheese, French fries, applesauce or coleslaw. Each meal also includes a complimentary salad, rolls and dessert, as well as coffee, tea or lemonade.
Bullock points to an improvement they added in 2016, adding an adults-only seating area in the Community Room. While the main fish fry in the gym is a buffet style supper, the community room is more restaurant style, with teams of junior high students seating patrons, taking their orders and serving the entrees.
"The kids bus the tables and chat with the customers. It's been amazing," Bullock adds. "People linger and chat with old friends. It was the best improvement we've made over the years."
Please follow and like us: