Scott Ostrander of Mount Prospect is a prolific composer, having created works for brass quintets, string ensembles, piano and concert bands. One of the first marches he composed, Maverick March, premiered last year in his home town of Fort Wayne, IN, when the Fort Wayne Area Community Band performed it for the first time.
Ostrander then reached out to 20 community bands in Indiana and Illinois, with the hope that they might perform his original march. The Arlington Heights Community Concert Band was one of the first to take him up on it. They performed it for the first time Saturday at the Arlington Heights Farmers' Market and will play it again at 7 p.m. Wednesday at their patriotic concert at North School Park, with Ostrander in attendance.
"Community concert bands are a treasure in America and it's an honor to have my music performed by any of them," Ostrander says.
Pete Pisello, director of the Arlington Heights Community Band, says his musicians have enjoyed learning the new march, especially knowing it is a new composition from a local composer.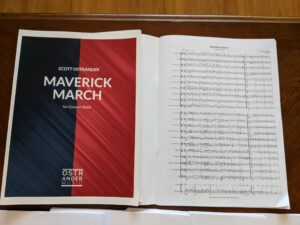 "Every section gets to play the melody," Pisello says, "they each get their featured moment."
Ostrander played trumpet in the symphonic, jazz, marching, and pep bands at Concordia Lutheran High School in Fort Wayne before he studied composition and trumpet at Concordia University in River Forest. But his concert band experiences were central in the formation of his compositional voice, and he especially enjoyed playing marches by the March King, John Philip Sousa.
Consequently, he composed Maverick March as a tribute to Sousa. Much like Sousa's marches, this one is divided into three distinct sections, with the third section repeating three times and building to the reprise of the first section.
"Selecting a march made a lot of sense because they are very American," Ostrander says, "often performed by community bands, and a staple category in the concert band repertoire."
According to Ostrander's publisher, J.W. Pepper in Philadelphia, the word "maverick" in the title reflects the independent path that Sousa took with his marches. Sousa certainly marched to the beat of his own drum, Ostrander says. His Maverick March celebrates the musical contributions of Sousa and the American spirit of independence, freedom and perseverance.
The 70 members of the Arlington Heights Community Concert Band played Maverick March midway through their concert on Saturday, and they will reprise it on Wednesday. The rest of their selections included regimental brass marches, patriotic music, a few American folk songs and an Armed Forces Salute. They also will perform Raiders March from the film, Indiana Jones and the Dial of Destiny, the latest in the Raiders of the Lost Ark series, which opened last week.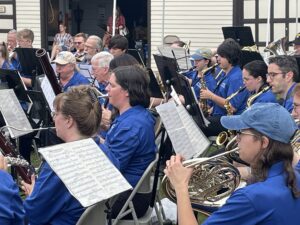 At the Farmers' Market, the band demonstrated some of that American perseverance when they played on through the light rain, while keeping their instruments — and sheet music — dry. This is the second season for the band to play at the market, on the grounds of the Arlington Heights Historical Museum. Patrons sat around them at picnic tables, while nibbling on food items from the market, and drinking coffee and old fashioned soda pop offered from the museum.
"Performing here helps us play in front of people who don't normally see us," said Pisello, who took over as director in 2021. "And it's nice to give back to the community."
Playing an original composition, by a local composer, well, that's an added bonus.
Please follow and like us: