John Fuja is midway through his first year as principal of Saint Mary School in Buffalo Grove, but suffice it to say, this is not his first rodeo.
He spent 13 years at Saint Viator High School, where he was a Spanish teacher and cross country coach before moving into its administration, as a dean of students. Stepping up as principal, he says, allows him to cultivate his philosophy of educating the whole student become the best version of themselves.
He'll be describing the school's culture at its open house, set for 11:30 a.m. to 1 p.m. on Sunday, April 23.
"As a Spanish teacher, I grew a love for education, for working with kids, and I loved the challenge of creating engaging lessons to help students grow and learn," Fuja says. "When I transitioned into my role as dean, I saw how central that job was to educating the whole student — particularly the social, emotional and spiritual domains.
"As a principal, I feel I get to combine the best of both, and then some," he adds. "I have the opportunity to support our teachers to ensure our school has outstanding learning experiences; I get to make sure we have programs and systems in place to support students in their social, emotional and spiritual development; and I get the chance to establish strong relationships with our community, to share the great things we are doing at Saint Mary."
Fuja grew up in St. Charles where he attended local public schools and then Marmion Academy in Aurora. He describes his high school years as "formative," with Marmion's pillars of academics, spirituality and leadership.
"I grew to have a deep love for the Catholic faith and Catholic education," Fuja says, "and I am the person I am in large part due to my experience at Marmion."
At Saint Mary, he hopes to make the experience a formative one for its preschool through eighth grade students, by building a strong community.
"When I interviewed for this role, it was clear how much people cared about Saint Mary," Fuja says. "It was also clear how much they desired opportunities to strengthen that community, particularly coming out of the pandemic."
He points to some of the family activities that have made a big difference: an opening family Mass and grill out, inviting parents to the pep rallies, events like Trunk or Treat and Cookies with Santa sponsored by the Family School Organization, and an upcoming Walk-a-Thon in May to raise money for the scholarship fund.
Academically, one of the areas Fuja is excited about is its STEM lab. The program is problem-based and student-centered, as students dive into learning launchers and, as school officials say, "wonder, struggle, discover and think, as they learn and grow."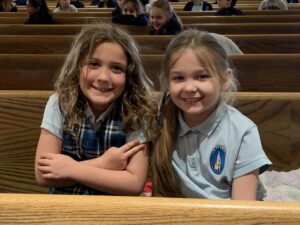 Sadly, serving as principal does not leave Fuja time to coach, but already he has been to Saint Mary flag football games, volleyball games, cross country meets, and basketball games, and this spring he plans to watch soccer, softball, and track and field athletes.
"I am so proud of our student athletes and I want them to know they are supported," Fuja says. "When we talk about educating the whole child, all co-curricular activities — including athletics — can teach our students a lot of lessons that will last them a lifetime."
Please follow and like us: