Lindsay Pazerunas eagerly watered vegetable plants in the Living and Giving Garden, located behind the Prince of Peace United Methodist Church in Elk Grove Village. But what she really wanted to see were the herbs, which she listed off: rosemary, thyme and basil.
Her friend, Allie Reninger of Schaumburg, described how much she liked harvesting the vegetables from the garden. "It's about giving back to our community, to the food pantry," Allie explained.
Both young women have Down syndrome and together with their families are members of the United Parent Support for Down Syndrome group, or UPS for DownS, which is based in Schaumburg. Among its many offerings is a Healthy Living and Garden Club, which meets weekly through the summer.
Allie and her mother, Lisa, started it. The group alternates weeks between offering healthy living and nutrition classes and working outdoors in the garden. On a recent Wednesday night, they were among more than 20 people who came, making it the biggest turnout yet.
"They just keep coming," Lisa Reninger said.
The benefits of working the land are plentiful. On this particular night participants spread out to water different beds in the garden before gathering with an instructor to learn how to build "bee houses" and learn about the importance of pollinators.
"One week we talk about nutrition and one week we concentrate on fitness," says Susan Rizzo, a church member and nutritionist who helped create the club. "It all comes together under the theme of healthy living."
Over its 16-week session, these young people will learn about different food groups, portion distribution and healthy plate cookbook review, as well as food photography, working with flowers and even an Orange Theory fitness session.
The UPS for DownS participants are not the only group working in the garden. Church members work with patrons of the Elk Grove Village Public Library and local Girl Scout troops, to name just a few who work together to raise fresh vegetables for the Elk Grove Township Food Pantry.
But on this particular night, these young gardeners enjoyed tending the vegetables they had planted, and well, just being together.
Clark Raymond of Elk Grove Village said simply: "I like gardening, and I like being with friends."
Katelyn Grunewald of Palatine agreed, adding: "Good eating is important. You have to be good to yourself and don't be afraid to try something new."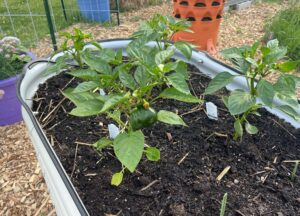 Lisa Reninger still marvels at how much interest and participation in the club has grown: "Our Healthy Living and Garden Club has been such a great example of all that we at UPS for DownS are about: support, information, community."
Please follow and like us: