Way back in August, Arlington Heights Mayor Tom Hayes cut the ceremonial ribbon, officially opening Gerry's Cafe. On Monday night, at the Arlington Heights Village board meeting, Hayes presented its co-founders, Natalie Griffin and Amy Philpott with the Disability Employment Awareness Award, while recognizing the shop's great addition to the community.
Members of the Commission for Citizens with Disabilities created the award 15 years ago, to recognize an Arlington Heights employer who proactively recruits, hires and employs persons with disabilities.
Griffin, a former special education teacher at Kirk School and surrounding public school districts, was beaming after accepting the award with Philpott, and she encouraged other businesses to hire persons with disabilities.
"We hired 45 young people, all from this community, and nearly all of them are working independently," Griffin said. "We see so many benefits from our employees, who for the most part would be isolated at home and not engaged much in the community if they were not working.
"They have developed friendships, confidence, pride, a sense of value, and success," she added, "in their ability to carry out their jobs at the cafe."
The shop was five years in the making, with Griffin and Philpott out in the community fundraising, negotiating with landlords and raising awareness of the possibilities of employing persons with disabilities. Driving them in their mission were national statistics that show an 80% unemployment rate among this underserved population.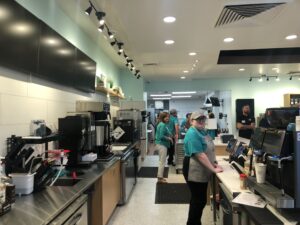 Gerry's Cafe is located at 1802 N. Arlington Heights Road, in a former Starbucks location. Its menu continues to evolve but ranges from salads and sandwiches, acai and quinoa bowls, to freshly baked muffins, cookies and scones. Consequently, selections go far beyond just coffee. Team members work with one another at six different stations and are under close supervision.
"We hope you all come in to Gerry's Cafe," Griffin said Monday night, "and have a cup of joy."
Please follow and like us: