He was one of the last of the original "directors" of the Arlington Heights Memorial Library, and though he served only one year on the library board, his name remains on its dedication plaque.
Norval Stephens passed away peacefully Oct. 17, at the age of 94, but that's just part of the story. In the more than 60 years that he and his family lived in Arlington Heights and then in Barrington, Stephens made lasting contributions that continue to impact local residents today.
He and his wife, Diane, and their five children moved to Arlington Heights in 1955 and by 1960 Stephens was elected to the Arlington Heights Village Board of Trustees. As a graduate of DePauw University in Greencastle, IN, he had served as president of president of his fraternity and later as a captain in the Marines, in the Korean conflict.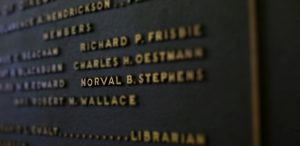 Stephens brought that leadership and sense of service to the village board, when he took his seat at the age of 32. At the time, the population of Arlington Heights was exploding. In 1960, there were 27,878 residents, according to census records, and by 1970, there were 65,058. Consequently, the 1960s saw the downtown business district expand, infrastructure improved, new schools and churches built to keep up with the growth, and annexations of new subdivisions and park district land.
At the end of his term, Stephens was appointed to the plan commission — he was elected president one year later — and also would be appointed to fill an open seat on the Arlington Heights Memorial Library board. It happened to be the year trustees were planning a new library building, which would grow to be one of the busiest in the state. Consequently, Stephens' name is on the dedication plaque that remains near its front entrance.
His Arlington Heights service ended when Stephens was transferred to London, to serve as director of European operations with Needham, Harper & Steers advertising agency, now part of Omnicrom.
Fast forward to the late 1970s, when Stephens and his family moved back to the Northwest suburbs, after living in London and later New York. This time, they settled in Barrington and once again he jumped in to serve. Early roles included president of the Harper College Education Foundation, a director with the Barrington Area Development Council, and vice-president of the Barrington Area Arts Council.
His lasting legacy lies in the Barrington Area Community Foundation (BACF). Stephens conceived the idea of encouraging local residents to give back to the community, by making tax-exempt contributions dedicating to "meeting unmet needs." He drew others to the idea and in 1998, they started with $35,000 seed money.
The foundation celebrates its 25 anniversary this year, and now draws on $14 million in principal. A strict grant review process is in place, with workshops offered to help nonprofit organizations craft their applications. Since its founding, the BACF has awarded 500 grants to more than 135 different organizations, amounting to more than $3.8 million. This year alone 39 nonprofit organizations received grants, to the tune of $385,000.
"Stephens has made an outstanding contribution to the community," former Mayor John Woods said of him in 1967. "When it comes to civic affairs, he served right across the board."
Please follow and like us: