These Conant High School students had a lot to celebrate after completing a recent 5K in Busse Woods. Not only did they organize the event, but they raised enough money to provide access to clean water for an entire province in Kenya. Credit junior Shiven Patel of Roselle, back row, center, for being the driving force.
He still remembers the impact of a trip he made with his family back to India. He was only 10 at the time, but one image stayed with him, of young children walking up to five miles to get access to clean water.
Fast forward six years, and this determined teen just pulled off a "Run for Water 5K," that more than exceeded his goal. Working with a team of classmates, he drew 160 runners and walkers, and netted $6,575, or enough to provide clean water for a province in Kenya of 300 people.
Right from the start, Shiven says he was thinking big. After doing some research he partnered with The Water Project, whose mission is to provide access to clean, safe and reliable water across Sub-Saharan Africa, one community at a time.
"I wanted to find an organization that would help me make a big difference," Shiven says, "where a lot of people are negatively affected, but where a lot of people could be positively affected by my project."
Shiven, runs varsity cross-country and track, and also plays basketball. Consequently, coming up with a 5K was a natural, but he drew on his business courses at Conant, as well as his involvement with the Finance Club and Business Professionals of America, to prepare him for all of the behind the scenes work setting up the event.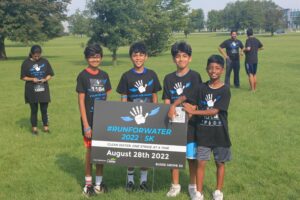 Shiven also worked with former longtime Palatine High School cross-country coach, Chris Quick, and his Palatine Pack company to set up the race itself and the timing mechanism, as well as Conant P.E. Department Chair Dave Cromer and former track and cross country coach John Powers, to organize logistics.
In the end, he drew runners and walkers from across the Northwest and Western suburbs, including from Schaumburg, Hoffman Estates, Roselle, Naperville, St. Charles and Geneva. Of those, roughly 40 were Conant, while the rest were family, friends and recreational runners interested in making clean water accessible.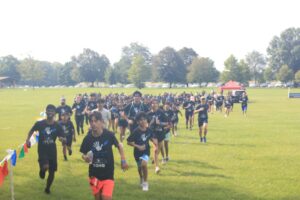 As officials with The Water Project say, "Water is a daily and crippling challenge. Without water, you can't grow food, you can't build housing, you can't stay healthy, you can't stay in school, and you can't keep working."
But they add that the water crisis can be solved, and with students like Shiven working toward that goal, there is hope.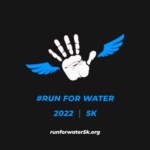 "I'm always confident," he says. "If I put my mind to it and team up with the right people, everything is achievable."
Please follow and like us: