She sings, she dances, she even builds sets. Senior Margaret Fecko of Arlington Heights stars in the title role of Rodgers and Hammerstein's Cinderella at Saint Viator High School, and much like her character, Margaret has waited a long time for her moment to shine.
The show continues at 7 p.m. tonight and Saturday, with a 2 p.m. matinee on Sunday. Purchase tickets, here, or at the door.
Margaret is the youngest of four children of Mike and Lucy Fecko. All of her older siblings have starred in the musicals at Saint Viator, played in the band and went on to perform in college. Now, it's Margaret's turn and she has landed every girl's dream role.
Her theater journey at Saint Viator began in 2012 when she played Gretl, the youngest von Trapp child in The Sound of Music. Six years later, and after a shutdown because of the pandemic, she is back on stage — and her joy is contagious.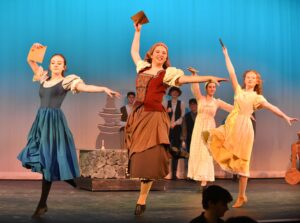 "While the show is over 60 years old, its beautiful score is still able to warm our hearts," says Director Megan Gray. "The script, however, may be a little different than you remember."
Saint Viator is basing its production off the Broadway revival of Cinderella, which opened in 2013 and was adapted from a book by Douglas Carter Beane. In it, he drew on the French version of the fairy tale, Cendrillon ou la petite pantoufle de verre, by Charles Perrault.
Margaret and her prince, played by senior Declan Newell of Arlington Heights, are clearly enjoying playing deeper characters than those in the classic fairy tale.
"Ella feels so much pressure from her stepmother, who makes her feel like she's unworthy," Margaret says. "It's not until she meets the prince, and she opens his eyes to conditions in the kingdom that she begins to feel her value."
Declan, who grew up performing in musicals at Our Lady of the Wayside School, agrees: "In the Disney version, the prince is pretty flat. In this version, there's more to him, he has more emotions."
There are also some new characters in this production, including Sebastian, who is an advisor to the prince and the main antagonist in the story. Another is Jean-Michel, a poor revolutionary and love interest of one of the stepsisters.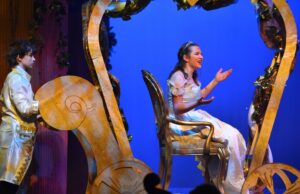 "There's a bit of a political subplot, with fighting going on for who gets control of the kingdom — the people or the nobility," says senior Luke Peterson of Arlington Heights, who plays Sebastian. "It's still the beautiful love story, but it's so much fuller."
Cinderella is Saint Viator's 57th musical and it extends the school's run of featuring Rodgers and Hammerstein musicals. In the past, the school has produced Carousel, Oklahoma!, South Pacific and The Sound of Music, and often more than once.
"Saint Viator has a longstanding history of producing musicals by Rodgers and Hammerstein," Gray adds. "We thought it was about time we added Cinderella to our repertoire."
Please follow and like us: