Construction started Tuesday at Pioneer Park, as construction crews worked to replace the asphalt path that circles some of the park with concrete. The improvement is part of the Arlington Heights Park District's path and pavement repair projects for 2023.
However, as workers removed the old asphalt and laid the foundation for the new concrete paths, they took great care to preserve a memorial bench and concrete base installed in 2019 on the park's southwest corner.
The bench was dedicated to the memory of Anna Hrtanek, who passed away suddenly in 2018 due to a cardiac condition. Members of her fifth grade Girl Scout troop at Westgate Elementary School raised the money to purchase the bench and its remembrance plaque. An anonymous donor then donated the cost of a flowering redbud tree, which on Tuesday was in full bloom with its purple flowers, Anna's favorite color.
"It has been five years since we lost our Anna," says her father, Matt. "This time of year represents the 'Anna-versaries' from her birthday on 4/19, passing on 4/26, which then all leads up to her celebration date on 5/7."
As workers descended on that corner near Fairview Street and Kennicott Avenue this week, with their various equipment and trucks, the bench and its tree seemed like an oasis amid the storm, offering peace and solace to the many walkers and runners who use the path each day.
Anna would be happy with that image, her father says, and to know that the park she loved is being updated and preserved for the many families in the area that use it.
"We grit and grind to honor Anna each and every day as we strive to get better at what we are passionate about," her father adds, "and truly enjoy and love those that are near and dear to us just like Anna did and would."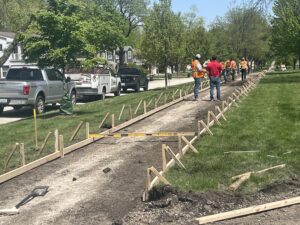 He ends each conversation with Anna's motto: Keep moving forward, or KMF as is inscribed on her bench.
Please follow and like us: