Most days, members of the St. Vincent de Paul Society at Our Lady of the Wayside Church go about their work quietly. A parish phone line connects them with neighbors in need to help them with food, housing, financial help for utilities and other basic needs.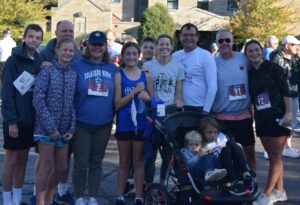 Yet, on Saturday the team will publicly promote their work, when they host their second annual fundraiser: a 5K Family Fun Run/Walk, which they call "Friends of the Poor."
The race starts and finishes in the parking lot at Our Lady of the Wayside, located at 434 W. Park St. in Arlington Heights. A kids' dash takes place at 7:45 a.m. before the race/walk starts at 8 a.m. While it is not a timed event, prizes will be awarded for the top male and female to finish — as well as biggest family to participate.
In hosting the family event, the group aims to raise awareness — and needed funds — for people who are struggling to make ends meet right in the surrounding community.

"St. Vincent de Paul members pick up messages left on voicemail and reach out to the client to determine the need and how we can help," says Judy Kendzior of Arlington Heights. "Each situation is unique and we work to together as a team to decide how to  provide the best assistance for the individual or family."
Requests vary, from one call a week to five or more, but the St. Vincent de Paul Society is a bridge to take people to the next step. Assistance can range from short term financial assistance, but often includes referrals to Catholic Charities, local township services and other resources.
"One word to describe our members is nimble," Kendzior adds. "The needs of the community are constantly changing and we need to adapt in order to be of service. But we are always in communication with local parishes and other churches to ensure that Wayside is helping people in need, regardless of the client's religious belief or denomination."
Registration fees include: Individual $30; Family (3 or more in the same household) $85; and Kids Dash Free to kids 10 and under. Registration is available online, or donations are accepted at Give Central.
Please follow and like us: